PHILADELPHIA -- What difference can art
really
make in an inner-city neighborhood chronically plagued by joblessness, violent crime, drugs and

Photo: Hoag Levins
Alternative content
Lucas Rivera, Director of Arts at Philadelphia's Esperanza Academy Charter School, credits Taller Puertorriqueño with saving his life. Click photos for larger image.
broken families? That's a question
Taller Puertorriqueño
has been trying to answer for the last 35 years.
An oasis of Latino culture in the hardscrabble Kensington barrio, the nonprofit arts center welcomes just about anyone who wanders in in search of an artistic experience.
Street hustler
In the early 1990s, one street hustler who walked through that door was Lucas Rivera, a cocky 17-year-old Edison High School student, sidewalk hip-hop dancer and self-admitted drug dealer. His visit turned out to be a life-altering experience as well as a demonstration of what art actually can do in a neighborhood that otherwise offers so many ways for its children to go wrong.
Rivera, now 33, recounts how a neighbor asked him if he would help her rehearse a bit of hip-hop choreography at a North 5th Street place whose name in English meant "Puerto Rican Workshop."
"That very first day I fell in love with Taller," said Rivera. "It's hard to pinpoint one thing that captivated me about it -- it was really everything from the staff to the paintings on the wall."
Locked up
Rivera returned frequently to visit Taller even as he continued his parallel life as a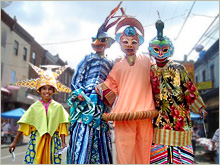 Photo: Taller Puertorriqueño
Aside from its educational programs, Taller hosts neighborhood cultural and music festivals.
street hood until shortly after he graduated. Then he said he was locked up and returned to the streets under court order not to associate with his former cohorts. That restriction turned out to be liberating.
"At that point, I had made my mother suffer so much because of my negative behavior," he said. "I really wanted to change and I decided that Taller and art was going to be at the core of that."
He returned to the art center as a volunteer, working at everything from repairing furniture and installing new toilets to teaching hip-hop dance and Brazilian martial arts.
'Almost my new drug'
"It was almost like Taller's community and air of artistic freedom was my new drug," he said. "I became a vegetarian. I grew dreadlocks. I created a series of paintings about Puerto Rican culture. It was like I was somehow reconnecting to myself and my identity as a Black Puerto Rican."
Rivera met his future wife in Taller's bookstore at the same time he was applying for admission to Temple University, where he ultimately earned a bachelor's and master's degree in Art Education.
Today, he is the Executive Director of Philadelphia's Artists and Musicians of Latin America (AMLA) organization and Director of Arts at the Esperanza Academy Charter School in Kensington. There, he tries to provide his students with the same sort of inspiration and example that Taller provided him.
In December, funded by the Pew Charitable Trusts, he traveled to the annual Cuban International Jazz Festival in Havana to research Caribbean jazz.
Dead or in prison
"When I was flying back into Philadelphia, I was looking down on the city and thinking how incredibly lucky I've been," he said. "So many other guys I knew when I was young are either dead or in prison and here I am being sent off to international musical festivals. It's amazing. And none of this would be happening had it not been for the people at Taller."
Dr. Carmen Febo-San Miguel remembers Rivera well. "Examples like Lucas attest to the fact that culture and the arts play a significant role in the formation of who we are as people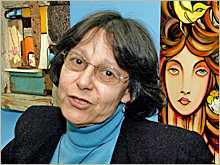 Photo: Hoag Levins
Alternative content
Dr. Carmen Febo-San Miguel has been Taller Puertorriqueño's executive director for ten years.
and that cultural grounding is equally important in that process," said the executive director of Taller. She's served in that position for ten years and was chairman of the board for 14 years before that.
In 2008, Taller became the first Latino organization to receive Pennsylvania's annual Outstanding Leadership and Service to The Arts Educational Award. Last year, Febo-San Miguel herself received the Paul Robeson Lifetime Achievement Award for her work.
U.S. attitudes about arts
Each year, Taller provides in-house art education and experences for hundreds of grammer and high school students and its outreach programs touch thousands of others throughout the city's school district. But it's often a struggle, said Febo San-Miguel. She noted that one of her career's greatest frustrations has been how American attitudes about the arts differ so markedly from those of other countries like France or England or Spain.
"In other countries, the arts are integrated more in daily life and public support for the arts is much higher and more consistent," she said. "Here at Taller we see how art in the community can be transformative for that community's members. But nevertheless, it appears ingrained in the culture of the U.S. to undervalue art and not see it -- or consistently fund it -- as the life-changing force it can be."
Video: Inside Taller Puertorriqueño